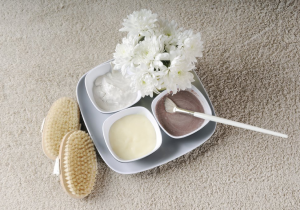 I use only professional products that I believe in and use myself. I believe in "Sustainable Beauty" and coming as close to natural as possible, while providing relaxing, effective skincare.
Skinscript
Skin Script is the perfect solution for beautiful, healthy skin using fresh thinking to deliver the latest in vitalized, youthful looking skin. Skin Script provides a clinical-grade professional skin care line containing retinols, glycolics, lactics, salicylics and natural lighteners allowing me to customize a treatment regimen for your individual skin conditions. Best for use in facials, microdermabrasions and chemical peels, these specialty products are designed to complement Skin Script's home products. The enzymes and peels are formulated with higher levels of the natural lighteners, kojic and arubtin.
Farmesthetics
"Sustainable Beauty™", all Farmaesthetics skincare products are 100% natural utilizing certified organic herbs, flowers, oils & grains from American family farms. 100% natural skincare products for face & body are used & sold in the finest spas & retailers in the world, including Four Seasons Resorts & Spas, Urban Outfitters, Terrain & their own unique flagship store-Farmaesthetics Skincare Apothecary & Treatment Boutique in Newport, RI. A noted trailblazer in "green" skincare. Farmaesthetics was also named to Women's Wear Daily's "It List" of "The Green Brands Defining Organic Skincare", and Farmaesthetics was named to TIME MAGAZINE's "Green Style & Design 100: The People & Ideas Behind Today's Most Influential Design".
Just Neem
JustNeem, LLC is a body care company based in Cary, NC, specializing in natural, premium Neem products for body and skin care. JustNeem is a certified B-Corporation. B-Corporations are a new type of corporation, which use the power of business to solve social and environmental problems.
All products are made with the finest cosmetic grade raw materials and contain naturally grown Neem and other pure ingredients that help sustain healthy and soothe irritated skin. Just Neem comes from our own orchards grown organically in the deserts of Africa.
JustNeem products are made with African Neem- and there is a reason for that. African Neem is known for its high concentrations of active ingredients that exert Neem's healing and protective properties.
African Neem Leaves and Oil
An evergreen tree that is part of the mahogany family. Properties of Neem can be summarized as anti-septic, anti-inflammatory and as a facilitator of wound healing. Neem leaves and seeds produce molecules that have potent anti-fungal, anti-bacterial and anti-viral properties. Neem protects the skin, heals skin infections, in particular if they are related to acne, psoriasis, and eczema, athlete's foot, nail fungus, dandruff, or cold sores. Neem oil is high in vitamin E, rich in emollients and fatty acids and is soothing dry, cracked or otherwise stressed and damaged skin.
Control Corrective, Professional Clinical Skincare
Control Corrective Skincare Systems is all about transformation. Our purpose is twofold – first to attain results and then to maintain the health and beauty of the skin. Offering comprehensive, collection-based skincare with a deep problem/solution focus, Control Corrective formulas deliver clinical skincare results in practical and accessible way. Whether you have cystic acne, dark spots, rosacea/sensitive skin, or mature, we have products that can help.
An important aspect to our skincare products is quality, consistency and professionalism. All of our formulas have been tested for efficacy, and the active ingredients are extensively researched for true potency and results. We take great pride that we adhere to GMP standards, we do not test on animals, and are completely paraben-free.
I have a fully stocked retail area for all your home-care needs and will analyze and customize a treatment plan for you. I have samples available to try before you invest in a full size product.