Advanced Facial Treatments
Firming Nanocurrent Treatment         $89
Nanocurrent delivers a gentle but direct bio-identical electrical current into the tissue at different frequencies. This current actually communicates with skin cells to enhance the production of collagen and elastin, eliminating free-radicals, and boosting collagen levels. The results…tighter, firmer, brighter skin with improved texture.
*Deep Cleanse with Ionization
* Skin Tightening using Radio Frequency
*Nutrient Penetration using Electroporation
*Muscle and Skin Toning using Nanocurrent
*Pore Tightening/Moisture Lock using Cryotherapy
Skin tightening in one treatment. For best results 3-6 treatments are recommend. Results will last longer with each treatment like exercise for your face. Skin will be a slightly pink and irritated immediately after treatment depending on skin type and level of current used. (30 Min)
Microdermabrasion (Add on to any facial)       $38.00
A non-invasive, non-surgical procedure that removes dull, lifeless cells on the surface of the skin to reveal newer more radiant skin. Improves the appearance of fine lines, wrinkles, age spots, acne scars, stretch marks and hyperpigmentation. Also improves the appearance of enlarged pores and reduces acne breakouts. (15 min)
The DermaDisc Resurfacing tool exfoliates the skin using gentle vibrations and a convex exfoliating tip that removes the top layer of dead skin cells leaving smooth, refreshed and rejuvenated skin. There is no suction as I am not a big fan of suction, which can cause trauma to certain skin types. (15 min)
Rezenerate Nano Facial Treatment     $145
It is the future of beauty…TODAY! REZENERATE WORKS WONDERS ON: + Fine lines and other signs of aging skin + Blemishes or other skin imperfections + Malnourished skin + Sunspots and age spots + Oily or overly dry skin + Uneven skin tone and texture A
REZENERATE FACIAL IS RIGHT FOR YOU IF: + You are not a candidate for more invasive procedures (because of skin tone) + You are concerned about painful treatments/numbing injections + You want quick results with little downtime + You want to maintain healthy, vibrant skin At the Intersection of Beauty and Technology. R
Rezenerate has revolutionized cosmetic facials with the development of its REZENERATE NANOFACIAL! The new REZENERATE FACIAL MODALITY is the culmination of a decade's worth of research and collaboration between Nanophysicists and Bioscientists to create a cutting-edge system that achieves the results of more invasive skincare modalities WITHOUT the pain, downtime, and other negatives often associated with them. (60 min)
Skin Classic Treatments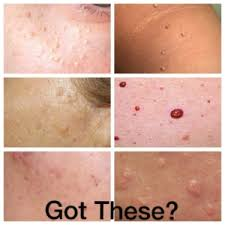 Conditions treated with the Skin Classic:
Melasma
Sun/Brown Spots
Spider Veins
Cherry Hemangiomas
Milia
Acne
Skin Tags
Sebaceous Hyperplasia
Cholesterol Deposits
What does the Skin Classic do?
The Skin Classic technique uses high frequency electrical current to dehydrate the top layer of the particular skin condition being treated in order to allow new, healthy skin to grow. The Skin Classic works on the epidermis only. It can be applied precisely to the area to be treated while avoiding the surrounding areas.Each treatment only takes a few seconds and the tip of the Skin Classic probe never penetrates the epidermis. The tip of the probe dehydrates and condenses the epidermal cells creating a scab-like layer which then naturally exfoliates in 7-10 days. Brand new skin is then revealed without the lesion. Normally only one treatment is required for complete resolution of the problem area.What should I expect?The probe is applied precisely to the area to be treated. Most clients experience a warm pricking sensation. This is more noticeable in sensitive areas around the lips and nose.

When can I expect results?

Results can be seen with a single treatment and in most cases are immediate and are often permanent.

Is there any downtime?

There is very little downtime, and side effects are very minimal. You will notice some fine scabbing after a few days in the area treated, this will resolve in about 7-10 days. Makeup can be worn after treatment to help conceal treated area.
Signature Facials
Swiss Pine Facial – reverse/anti-aging, hydrating and calming redness, 60 Minutes $95
The Swiss Pine Enzyme contains pholumin and french oak which calms sensitive, irritated skin to create a more even skin tone. The White Birch Mask improves skin tone, texture and clarity. It is a calming mask to relieve redness and sensitized skin. Included is two cleanses designed for your skin's needs, followed by light exfoliation. Additional facial massage with a serum chosen to benefit your skin is chosen. Hyaluronic Acid Toner is used to maintain moisture and plump fine lines. Scalp, neck, shoulder and decollete massage included as well. An anti-aging moisturizer finishes up this hour long anti-aging relaxation session. Includes use of the MYSKINBUDDY™ device which is the revolutionary facial device that utilizes four proven technologies to help you achieve a clearer complexion, brighter and even skin tone, and a more youthful appearance
 Signature Meditation Facial     $83.00
A basic deep cleansing of the skin. This facial will leave your skin clean and refreshed! Includes cleansing, exfoliation, trigger point facial massage, neck and shoulder massage, toner, serum, mask and moisturizer. (50 Min)
Advanced Facial $92.00
A slightly longer facial treatment that involves deeper, more detailed work using various tools and/or machines for more complex skin issues. The facial is still custom to your needs, but allows me the extra time to fully use what I have in my arsenal to get your skin where it needs to be. (60 Min)
 Deep Clean Acne Facial     $92.00
This facial is designed specifically for skin that has acne/hormonal or problematic prone skin. Includes cleansing, light steam, exfoliation, extractions and a moisturizer. (50 Min)
Freshen Up Facial $65
For those that have limited time but want to improve the skin's vitality and health. Includes cleaning, manual exfoliation, massage and moisturizer.
With the use of cutting edge aesthetic equipment, in just 30 minutes you'll leave feeling fresh and vibrant. Through effective yet gentle exfoliation using the DermaDisc tool and/or ultrasonic spatula, we will reveal fresh clean skin. Then using ultrasound again we will penetrate nutrients into the skin leaving you looking vibrant and ready to make it a great day! (25 Min)
Body Treatment $105.00
A blissfully, relaxing way to deep clean and detoxify your body. Includes deep cleansing, hot towel therapy, pressure-point massage, exfoliation, hot oil massage, extractions, detoxifying mask and a soothing treatment to restore hydration. (45 Min)
PACKAGES! ANY GROUP OF FACIALS, PEELS OR MICRODERMABRASION CAN BE PURCHASED IN A PACKAGE OF 6. 
PACKAGE OF 6 WILL RECEIVE 10% OFF TOTAL PRICE
Glycolic Peel Package – for normal, oily, acneic or dry skin
Exfoliating, softening, minimizes pore size, and treats mild to moderate acne
A series of 6 Glycolic Acid peels spaced one week to achieve the best possible results. Proper home care before, after and during treatments is essential. Recommended home care regimen includes: Raspberry Refining Cleanser, Glycolic Cleanser, 2% Retinol Scrub, Blemish Control Toner, Blemish Control Spot Treatment (as needed) Light Aloe Moisturizer, and SPF containing Zinc Oxide.  Avoiding any direct sunlight is essential during treatment series.  Mild flaking 3-4 days after each treatment can be expected.
Hyperpigmentation Peel Package – for dry, uneven skin tone, or melasma
 Exfoliating, softening, hydrating, brightening & lightening
A series of 3 Green Tea Lactic Acid peels spaced one week apart.  Proper home care before, after and during treatments is essential. Recommended home care regimen includes: Pomegranate Cleanser, 2% Retinol Scrub, Cucumber Toner, Vitamin C/Green Tea Serum, Hydrating Moisturizer, and SPF containing Zinc Oxide.  Avoiding any direct sunlight is essential during treatment series.  Mild flaking 3-4 days after each treatment can be expected.
Tiny Treats Menu (add on to any service)
◊ High Frequency Peptide Serum Treatment (10 min) $20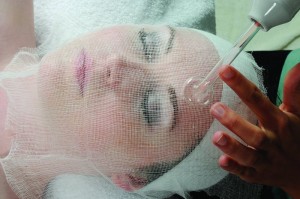 ◊ Hot Oil Scalp Massage and Treatment (20 Min) $45
◊ Microcurrent Green Tea Peptide Eye Treatment (15 Min) $15
◊ Facial massage with hydrating Oil (10 Min) $15
◊ Chest and decollete treatment $45